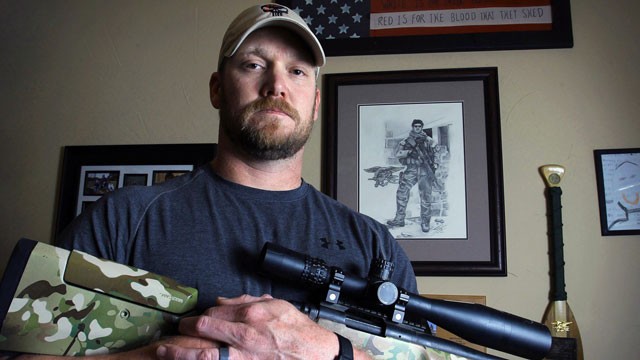 In this April 6, 2012, photo, former Navy SEAL and author of the book "American Sniper"
Chris Kyle poses in Midlothian, Texas.
"T

he only thing that stops a bad guy with a gun is a good guy with a gun,"
-- NRA CEO Wayne LaPierre
Via ABC World News, a

man is under arrest in connection with the killing of two men at an Erath County, Texas, gun range, police said.
One of the victims is former Navy SEAL and "American Sniper" author Chris Kyle.
Inbound reports from the scene are muddy at the moment, but this much is known: Kyle, a highly-decorated military veteran, was with a neighbor at a Texas shooting range when a gunman with a documented case of PTSD (post-traumatic stress disorder) allegedly gunned down the two men, both presumably among LaPierre's class of "good guys with guns."
It is neither too early to mourn the loss of a fallen brother-in-arms nor too early to start the fight to ensure no others fall at the hands of an armed broken man who should be neither.